Saturday, April 29, 2006
MOVIE REVIEW
By Stockton
As a movie fan, nothing gives me greater pleasure than to uncover a great film hidden amongst the crap that fills the local video joint. I discovered one particular movie many years ago and have had the opportunity to see it again recently. I forgot how much I enjoyed it the first time.
I do not recall if this film was any type of a hit in '82 when it first came out. It's a very good film so I'll assume it was a dismal failure at the box office. The film:
My Favorite Year takes place in 1954. The film revolves around a live, Saturday night comedy show modeled on Sid Caesar's Your Show of Shows. In fact, the storyline is based, quite loosely, on the week that Errol Flynn guest-hosted Caesar's show and a young Mel Brooks was assigned to babysit the legendary rake.
In this version, Peter O'Toole plays the Flynnesque Alan Swann. O'Toole does a masterful job as Swann and one gets the feeling that he's not acting so much as playing himself. O'Toole's performance earned him a Best Supporting Actor nomination.
In fact, O'Toole steals the show in what was probably designed to be an ensemble effort. The side plot involves a mob-connected union boss trying to shut down the show because of a less than flattering portrayal of the union leader. Joseph Bologna does a great job as King Kaiser (Sid Caesar) and you'll recognize many of the other cast members.
The best scene may be when Benjy Stone (Swann's babysitter) takes the legendary star to Brooklyn for a family dinner.
Like I said, there's a lot of crap out there. It's still worth the time to mine the crap mines because occasionally you'll find a gem like this.
A great nostalgia piece. Stockton gives it
****
out of
*****
for a comedy.
Wednesday, April 26, 2006
POLICE LINE-UPS QUESTIONED
By Stockton
For years, the efficacy of eye-witness testimony in criminal cases has been in doubt. Over time, studies have shown that witnesses to a crime often make unreliable witnesses, especially when picking a perpetrator from a line-up. It is not uncommon for multiple witnesses to choose multiple suspects from the same line-up. Now,
studies
are casting doubt on other studies, making us all very confused.
The upshot of all this is, eye-witnesses and studies on eye-witnesses are unreliable. Which goes a long way in explaining why Jacob Stoodle,
was arrested for a crime allegedly committed by,
Joshua Rosen (who turned out to have been 2,000 miles away at the time of the incident anyway).
The two now correspond and are good friends.
Monday, April 24, 2006
WHAT I'M DRINKING
By Tweed

A couple of years ago, I started drinking wine.

Since then, I've lost my job, my wife and home. But, I've learned a few valuable lessons about wine.

The first is: "Trust the foreign alcoholic wine lover across the street."

My Kiwi neighbor is the cause of my serious wine drinking. A self professed wine-nut, my neighbor introduced me to serious wine drinking. I believe the guidance of someone who knows more about wine than you ever will is invaluable. Not that I listen to every word that he says and buy what he buys - but his advice and the knowledge he has imparted to me has been very valuable. It also helps having a drinking buddy.

The second lesson I learned is: "Follow your taste buds, not a name or a price list."

This is a pretty hard one to follow if you really get into the whole wine experience. But trust me on this - this is an important rule (and the wines discussed below demonstrate this point).

The third lesson I learned is: "Use what knowledge you have."

After a few months of serious wine drinking, I met an old friend in New York at a steak house. We perused the wine list, which consisted of bottles ranging in price from $35 to $600 a bottle - yikes. Not wanting to be cheap, but not wanting to get a real clunker, I carefully reviewed the selections a chose a $35 bottle of wine - a 2000 Lalande de Pomeral (can't recall the Chateau - la Fitte or something like that).

It was great - we drank two bottles.

So why the $35 bottle when I was willing to spend up to $100? I knew that 2000 was an outstanding year for Bordeaux - one of the great wine growing regions in France and the area from which I had been buying most of my wine. In addition, the Pomerol region of Bordeaux (a small region of which Lalande de Pomerol is a part) produces some of the finest wine in the world (le Pin, Petrus, Trotanoy).

Now, I've had Pomerols I haven't liked, but this one was great.

I was very proud of myself.

The following are three red Bordeaux's I have on my shelf, waiting to be consumed. I've already had at least one bottle of each (over the past few months, not today):

Moulin de Duhart, 2001: From the Pauillac region of Bordeaux; has some relation to Chateau Duhart-Milon of the Domaines Barons de Rothschild (Lafite). Pauillac is mostly Cabernet Sauvignon and has been described as follows: "If one had to single out one Bordeaux commune to head the list, there would be no argument. It would be Pauillac."

Though not a classified wine (e.g. Grand Crus Class) this wine has some great names associated with it. And 2001 was a pretty good year. I bought this wine because of the name.

I like it, but I'm not thrilled. A little much at $35+ per bottle.

Chateau de Rochemorin, 2000: From the Pessac-Leognan region of Bordeaux; Pessac Leognan is a fairly newly classified region (used to be a part of the Graves) and includes the town of Bordeaux within its borders. 60%-40% Cab. Sauv - Merlot. Made by Andre Lurton.

The Rochemorin is great stuff, and at less than $20 a bottle, a great buy for a wine rated 88 by Wine Spectator.

The Lurtons make outstanding wine, in my experience (Andre, Denis, the whole crew), and it is generally inexpensive by today's standards. If a Lurton has anything to do with it, I'll probably buy it (Fontarnay-Margaux; Barbe-Blanche-St. Emillion are both Lurton family wines I've enjoyed).

Chateau Garraud, 2001: From Lalande de Pomerol; mostly Merlot. Holly Crap this is good stuff. When I first bought this it was $14 per bottle. After Wine Spectator dinged it with a 92 rating, it went up to $28. It is worth it. One of the finest bottles of wine I've had.

This is an Alfio Morriconi selection. As I understand it, Morriconi is a wine buyer (not a spaghetti western director) who has the unpleasant job of finding great wine to import. I've had many Morriconi selections, and I generally like them, and so, generally trend towards his selections.

Cheers.

Friday, April 21, 2006
LIST COMES UNDER SCRUTINY
By Stockton
The Pentagon has released a list of
Guantanamo detainees
containing over 500 names. The information comes in response to a Freedom of Information request. However, after reviewing the list, many are skeptical about the sincerity of the government's response.
The following is an excerpt from the newly released document:
I.P Daily;
Hung Real Lo;
Yo Momma Mustapha;
Muhammad Ali;
U.R Afool;
Sirius Black;
Fatwa Albert;
Judge Crater.
Pentagon officials said they would review the list for accuracy. "I.P. Daily might be a typo," said a Pentagon spokesman. "But the rest of the list is fairly accurate. We just water-boarded Mr. Lo yesterday."
Tuesday, April 18, 2006
SMELLO-VISION HAS RETURNED
By Stockton
Looks like the
Japanese
have once again taken a giant step in theater technology. Now, not only will you be able to hear and see film, you'll be able to get a few whiffs too.
There are already plans to adopt "Smello-Vision" to American Cinemas. According to insiders, a number of films will be adding a few scents to the theater experience, including:
Spartacus, Cool Hand Luke, most prison movies and Bend Over Babes IX.
Political consultants are looking at adopting the technology for political debates, campaigns and Sunday talk shows. "Wouldn't it be great to get a whiff of Hannity," said one well-known consultant.
Researchers are now working on "Tasto-Vision."
Saturday, April 15, 2006
OPERATION FELLATIO READY TO COMMENCE
By Stockton
According to sources, an anonymous Sioux City, Iowa woman has agreed to perform fellatio on President Bush, thereby guaranteeing that the Republican controlled Congress will begin impeachment proceedings.
"Logically, you'd figure it would have happened by now," said the 27 year-old woman. "After Iraq, Katrina, the spying, the lying, Valerie Plame....do I have to go on? It's time this man was impeached."
The anonymous woman, along with friends, began discussing impeachment one year ago. "Then came the spying," says friend, Alan Mathison. "We thought for sure he'd get impeached. But no."
After exhausting all other options, 'Operation Fellatio' was born. "We know this will work," said Ellen Jankowski, another friend. "There's precedent for fellatio-induced impeachment and we know it's something the GOP can rally around."
"I never thought I'd fellate a president," said the anonymous woman. "And normally I wouldn't, but my country needs me. It's time to my mouth where my money is. Or something like that."
Wednesday, April 12, 2006
BLOGS IN TIME - Vol. I
New Revelations Regarding Imperial Reaction to Vesuvius Disaster
December 12, 79 AD

New revelations on the Imperial response to the anger of the God's this last Vulcanalia have given new voice to Senators and survivors critical of Caeser.

Lucius Marcus, an administrator for Seutonius Servidious, Caeser's appointed high priest, revealed yesterday that he and other priests had warned Caeser and Servidius that the God's were angry, and that disaster loomed. In fact, Marcus claimed that a possible eruption of Mt. Vesuvius was specifically discussed during a presentation to Caeser and his staff by Imperial and local priests in early August, just days before the disaster. Such statements directly contradict Caeser's comment shortly after the eruption that "no one thought there would be an eruption."

When the ground began to shake and the water dried-up in and around Pompei, Imperial authorities assured the public that all steps were being taken to adequately appease the Gods. Servidious claimed that "hundreds of lamb, goats and chickens have been sacraficed, and hundreds more are strategically located throughout the area in the event they will be needed." But when disaster struck, many were left without sufficient livestock, and some resorted to sacrificing bugs and plants. "It just didn't work," said Polonius Tuolnius, a local slave trader. "We sacrificed everything that we could, except the slaves, but the Gods were not appeased - hell-fire, ash and brimstone descended upon us! Where were the Imperial Authorities?!"

Imperial reaction to the disaster is widely viewed as having been inadequate in planning and execution. Even several days after the disaster, livestock that could have been sacrificed by local residents had not yet been set in motion from their holding area in Rome. Said one priest mobilized to render assitance during the disaster, "we came to help, but our religious services were hampered by poor logistical planning."

Marcus' comments yesterday place in sharp relief, for some, the degradation in the level of competency from the previous administration to this. Yesterday's revelations also renewed claims by critics that Caeser's plans for reconstruction of Pompei fell short of what was needed. "The aquaduct commission, the vomitorium commission, the legions. . . everyone has been given an assignment, but there are no funds to complete their tasks," claimed Senator Antonium Hervedicus. Others claimed that Imperial reaction was driven in part by prejudice against Campanians.

Senators from the region have requested over $MLLXXVII in reconstruction funding.

Monday, April 10, 2006
WASHINGTON EXTRA
Your Inside the Beltway Look at the Lives of the Politicos By Headley Tweedley

This Installment. . .

"Dick Hits The D-List"

Dick Cheney, or "Richie" to his close friends, has been on and off Washington's D-List for a long time - ever since he was panned by the critics and audiences alike in his vote against cop-killer bullets back in the 80's. Richie made a run for the A-List in late 80s and early 90s as Senior's confident and competent Defense Secretary. His performance, though dry and lifeless, much like some of his recent hunting companions, earned some critical thumbs-up and general audience approval.

But his run to stardom seemed to come to an end when personally charming, but publicly Mr. Perennially foot-in-mouth, Senior was canceled for the younger and hipper "The Clinton Years."

The intervening years were rewarding for Richie, as he starred in the long-running off-Broadway production of "Haliburton." Mixed reviews, and out of the spotlight, Cheney did his best to avoid the plight of many has-beens; drugs, prostitution, and a permanent fixture at Republican fundraising events.

But Richie stormed back taking a secondary but important role in the development of Junior's big production. Richie had finally made it to lavish A-List parties as he charmed the critics for his performance in the overall poorly received "Vice Presidential Debates." And he was initially hailed in his grey-beard role in Junior's controversial production. Comparisons to the late John Spencer's work in "The West Wing," were on peoples' lips.

But Richie couldn't hold it together and a series of box-office flops,"Energy Policy," "Environmental Rush," and "The Disarmament Game" followed.

Richie made a run at a comeback hit with "Weapons of Mass Destruction," (popularized by bad-boy Osama bin Laden and helped along by the performance of tall, dark and handsome Colin Powell). But the run sputtered out with the release of "The Dictatorship of Saddam Hussein," a dreary tale of a third-rate tyrant which critics called, "derivative of 1930's Europe."

Then came Scooter Libby and Valerie Plame. While only a supporting player in Intimidate, his performance was not well received by the critics.

With ratings lower than Hollywood murderer O.J. Simpson and the last season of "Roseanne," Richie tried to turn things around. Instead, the shot he took at the A-List only resulted in the maiming of a South Texas lawyer.

Richie's controversial PR gimmick was planned to show the humane and sensitive side of Richie, insiders say. Instead, Richie turned in another classic Cheney performance showing a lack of charm and grace some reviewers termed "disgraceful," and to which audiences gave a collective Bronx cheer. The plan was to have Richie shoot a Texas lawyer in the leg, run to his side and "be there for him," showing remorse, sympathy and empathy.

But the role was too much of a stretch for this character actor. Richie instead went with his gut, which has produced some stunning performances for others, such as Al Sharpton in "Who Wants to be President: 2004," and the late Paul Wellstone's "Professor Wellstone goes to Washington." But for Richie, it was like watching John Travolta's "Battlefield Earth" (which had better lighting and makeup, incidentally).

And his gut told him to shoot the lawyer in the face and retire to an undisclosed location.

No one knows what the future holds for Richie but the words "Info-Mercial" certainly come to mind.

Thursday, April 06, 2006
PRESIDENTIAL SPACE MISSION
By Stockton
Today, President Bush announced an ambitious plan: to be the first president to visit outer space.
The news came as a shock to many. The President has never shown much interest in NASA or any scientific endeavors.
Why the change? "The President has always been interested in what's out there, in deep space," said Scott McClellan. "It was not one particular thing that interested the President but he now feels compelled to lead the way into deep space."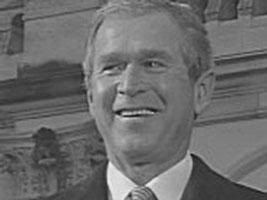 President Bush contemplating space travel
In unrelated news, scientists have discovered an
alcohol cloud
463 million kilometers long in deep space.
Upon his return, the president plans on pursuing his latest hobby,
cultivating house plants
.
Wednesday, April 05, 2006
DELAY SHOW TO BE CANCELED
By Stockton

The Tom Delay Calvacade of Comedy will not return this fall. The star of the show, Texas Representative Tom Delay, announced on Monday that he will not be returning for another season. Delay's show was a centerpiece of the GOP network comedy lineup and will be missed. It is not known who will take Delay's time slot.

Delay's decision not to return to his long-running series comes in the wake of criminal indictments in his home state of Texas. In his statement, Delayed stated that he believed he had a 50-50 shot of winning his time slot this fall but did not want a liberal, democratic show to beat the GOP in the ratings. Therefore, he would step aside for another 'pilot'.

Delay also said that his continuous thoughts of jailhouse sodomy would be a distraction during fall shooting.

Delay has been praised by many for his statesman-like conduct during his tenure in the House, relying on intellectual arguements to win people to his side.

Sunday, April 02, 2006
HARRIS TO BE CANCELED?
By Stockton
Even in the world of entertainment a pretty face and winning personality will only carry you so far. That's the lesson being learned by
Katherine Harris
.
Harris' bid to take on Florida Senator Bill Nelson (D) is close to being canceled.
"It's a competitive time-slot," said one Harris writer. "Nelson has built an audience and his ratings are solid."
In 2000, Harris had success in a riveting mini-series playing the Florida Secretary of State. Her ratings were high for a very short time but she seems unable to transfer her success to other projects.
Now, less than 6 years after her big premiere, the new Kathleen Harris Show may be canceled before it even debuts for the Fall season.